Several advertisements have been located which show how the Benthall Pottery Company advertised its range of Salopian Art Pottery. Some are shown here, and no doubt others will come to light with further research.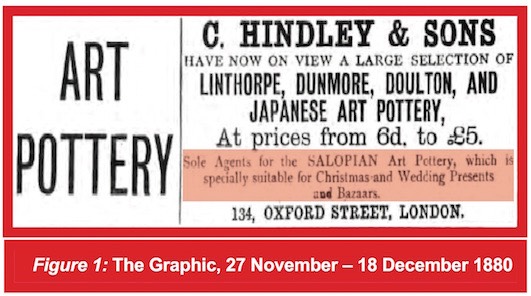 "Nearly three hundred shapes"

November – December 1880, The Graphic
(Figure 1)
The first known mention of Salopian Art Pottery in the press was in 1880, when a small display advertisement appeared in four consecutive issues of The Graphic, a weekly national newspaper (27 November, 4, 11, 18 December 1880). It was listed below art pottery from other, more established, makers – Linthorpe, Dunmore and Doulton.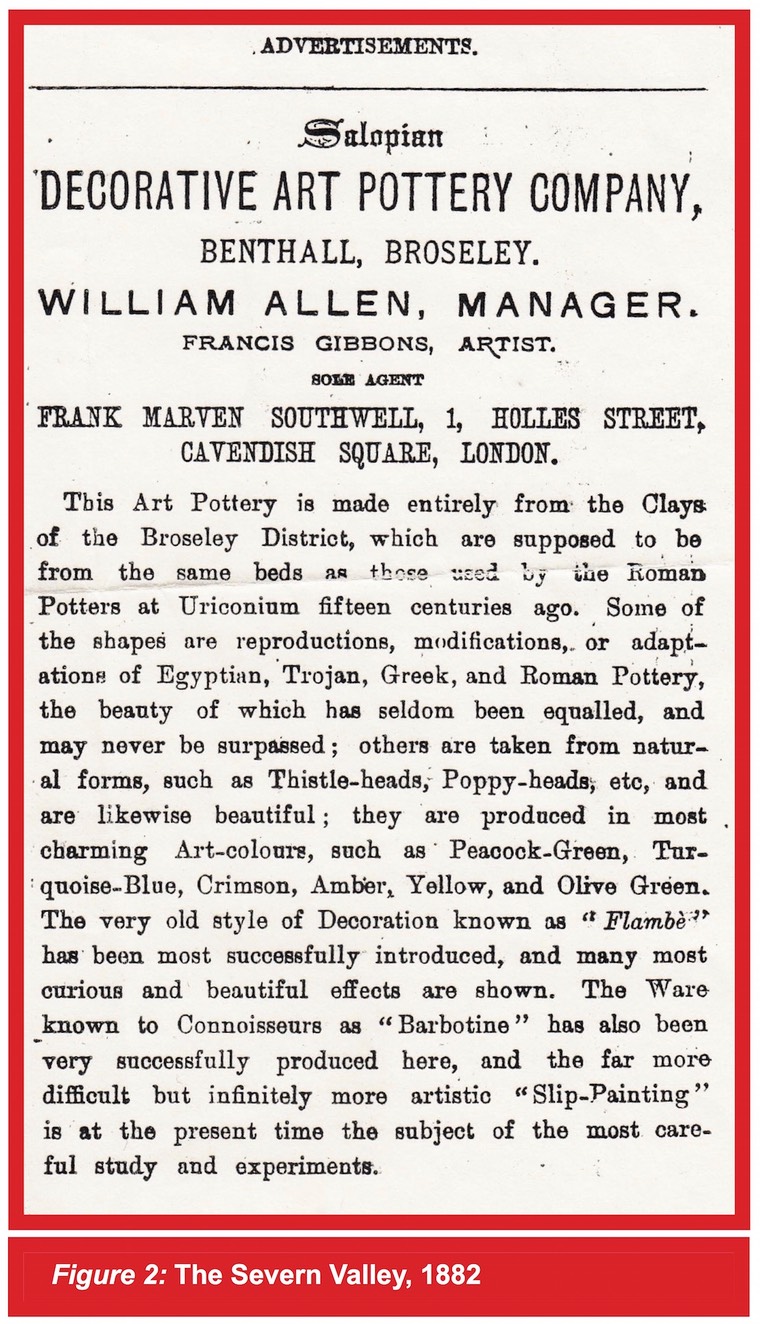 The advertisement was placed by a retailer,
C. Hindley & Sons, whose showroom was at
134 Oxford Street, London. 
Hindley & Sons are described as "sole agents for the Salopian Art Pottery", and pieces bearing the impressed mark HINDLEY are known.
The partnership with a London retailer shows how the Benthall Pottery Company intended to widen the market for its new range of art pottery, taking Salopian Art Pottery beyond a purely local market closer to its Shropshire home.
The same advertisement also appeared in the classified pages of the London Standard (29 November 1880).

1882, "The Severn Valley"
(Figure 2)
The most descriptive advertisement appeared in 1882 as endmatter in The Severn Valley by historian John Randall. The book was published locally at Madeley, about four miles from Benthall.
This advertisement is notable for its reference to Francis Gibbons as the company artist, and for describing the shapes, colours and styles of Salopian Art Pottery, with slip-painting and barbotine decoration given special mention.
Evidently, the arrangement with C. Hindley & Sons was short-lived (less than two years) and had ceased by the time this advertisement was published, as a new agent had been appointed – Frank Marven Southwell (1859–1935), whose premises were at 1 Holles Street, Cavendish Square, London.
Southwell was from Bridgnorth, Shropshire (seven miles south-east of Benthall), and was educated at Charterhouse School, Surrey. It's assumed this local connection brought him into contact with William Allen and the Benthall Pottery Company.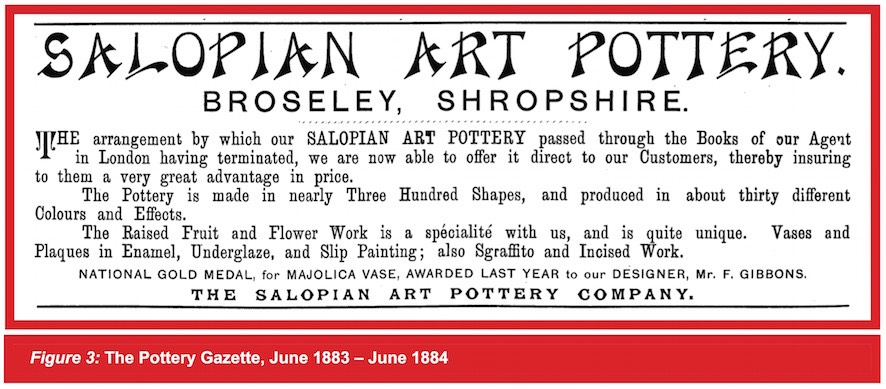 June 1883 – June 1884, The Pottery Gazette 
(Figure 3)
The Pottery Gazette was the trade paper for the ceramics industry, and over the course of a year, in consecutive monthly issues from June 1883 to June 1884, a display advertisement appeared for Salopian Art Pottery.
In the advertisement, Francis Gibbons was then described as the company designer, awarded a "National Gold Medal, for majolica vase, last year" (that is, 1882).
Saying that Salopian Art Pottery was "made in nearly three hundred shapes, and produced in about thirty colours and effects", gives an impression of the scale of the company's output at this time. Specific mention is made of decorative techniques for which Salopian Art Pottery was known: raised fruit and flowers (that is, modelled pieces applied to the surface of vases and plaques), slip-painting and incised work. 
The company had dispensed with the services of its London agent Frank Marven Southwell (seemingly a short-lived partnership of little more than a year), and was selling direct to the public.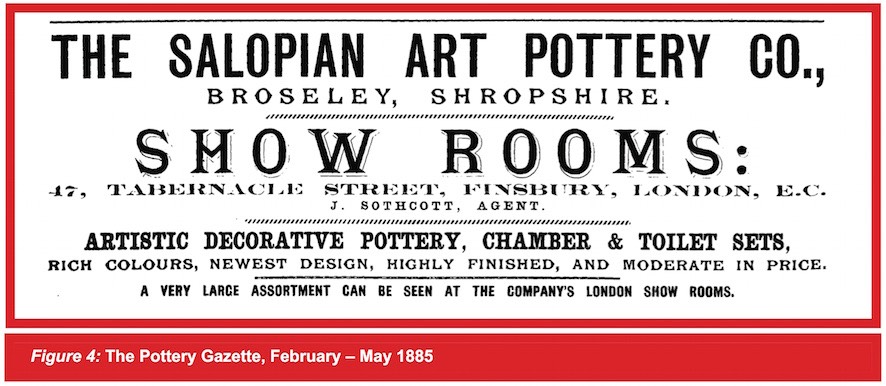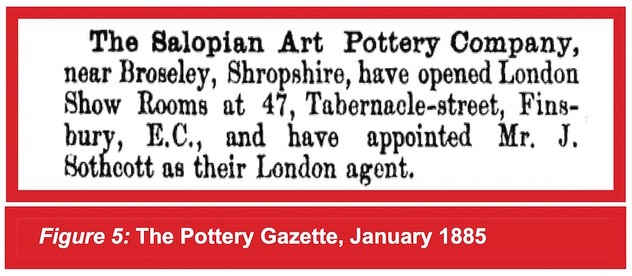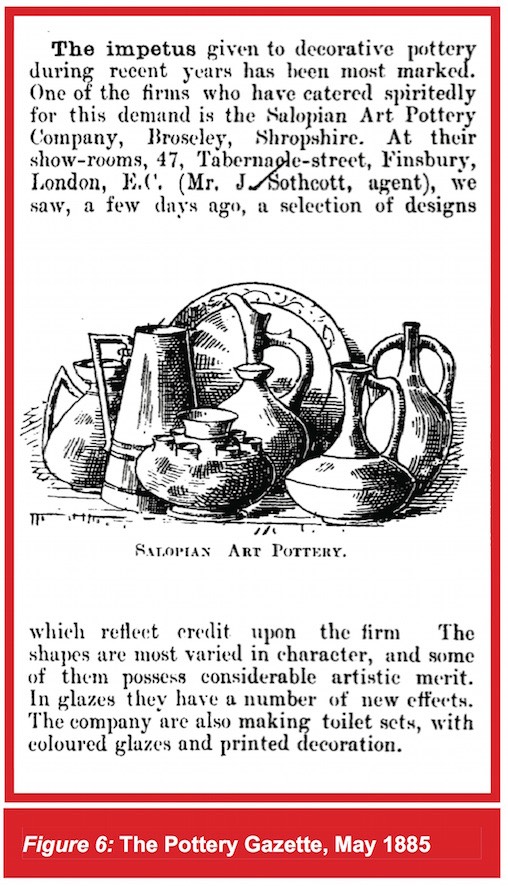 January – May 1885, The Pottery Gazette 
(Figures 4, 5 & 6)
In January 1885, the Benthall Pottery Company announced in the trade press that it had opened its own London showrooms, at 47 Tabernacle Street, Finsbury, and had appointed J.Sothcott as agent (Figure 5).
Following this initial classified advertisement, the company went on to place a prominent display advertisement (Figure 4), which ran in four consecutive monthly issues, February to May 1885, of The Pottery Gazette. 
The May issue also included a short editorial comment about the London showrooms, saying that some of the company's Salopian Art Pottery pieces "possess considerable artistic merit". It also said: 
The impetus given to decorative pottery during recent years has been most marked. One of the firms who have catered spiritedly for this demand is the Salopian Art Pottery Company, Broseley, Shropshire.
A line illustration with this editorial shows seven pieces of Salopian Art Pottery. This is the earliest known image of Salopian Art Pottery, and although it is little more than a sketch, it is a tantalising visual record of what was being produced (Figure 6).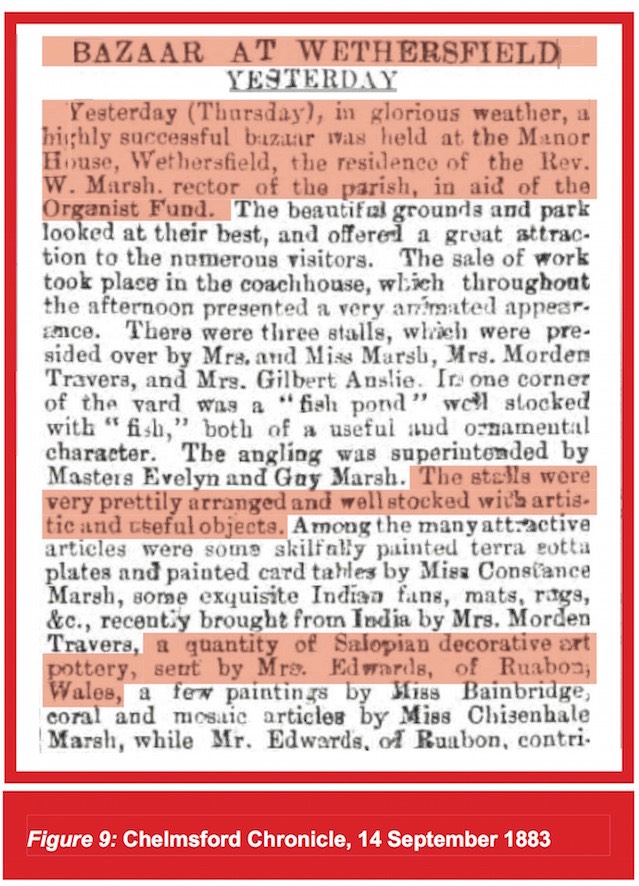 "For bazaars and sales of work"
Elsewhere in the Victorian press are insights to how the Benthall Pottery Company offered its Salopian Art Pottery to the public.
William Allen's classified advertisement in The Guardian, 15 June 1887, reveals that Salopian Art Pottery could be bought directly from the company in "small parcels" priced at £1 and upwards "for bazaars and sales of work" (Figure 7).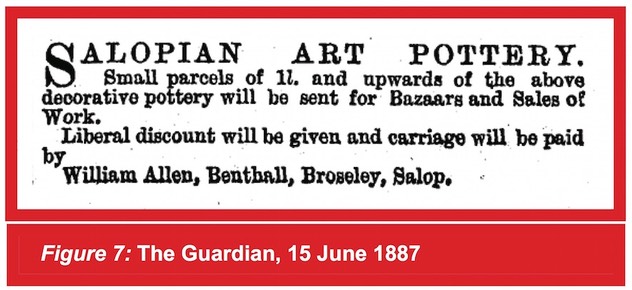 Judging from the numerous mentions of Salopian Art Pottery in the local press, particularly in the 1880s–1890s, bazaars and church fundraising events enabled the company to retail its products. Newspapers with references to Salopian Art Pottery sold at bazaars include (many others will exist):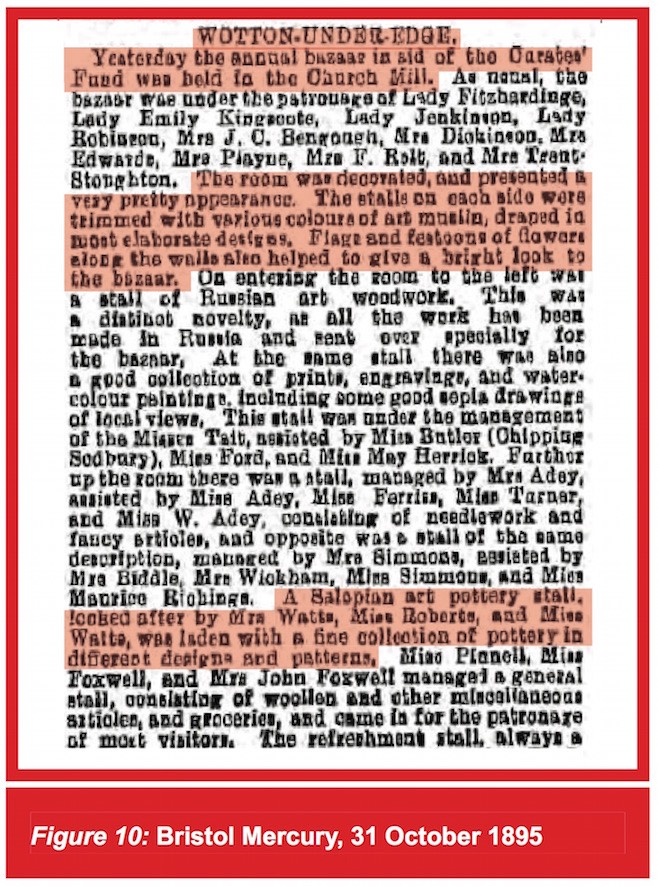 16 October 1880, Wellington Journal


– bazaar at Much Wenlock, Shropshire, in aid of the Wenlock Olympian Society.


14 September 1883, Chelmsford Chronicle – bazaar at Wethersfield, Essex, in aid of the Organist Fund (Figure 9).


23 August 1884, Dundee Courier – bazaar at Pitlochry, Scotland, in aid of the Building Fund for the Established Church.


30 August 1888, Tenby Observer – bazaar at Tenby, Wales, for the restoration of church bells.


6 September 1889, Chelmsford Chronicle – sale of work at Dunmow, Essex, in aid "of the fund for the extinction of the debt of the Vicarage House at Lindsell."


18 September 1895, Taunton Courier & Western Advertiser – sale of work at Martock, Somerset, to raise funds for a parish room.


31 October 1895, Bristol Mercury

– bazaar at Wotton-under-Edge, Gloucestershire, in aid of the Curate's Fund (

Figure 10).


30 January 1899, Daily Gazette for Middlesbrough – nautical bazaar at the Seamen's Institute, Middlesbrough, north Yorkshire.


18 April 1900, South Wales Daily Post

– bazaar at the Unitarian Church, Swansea, Wales.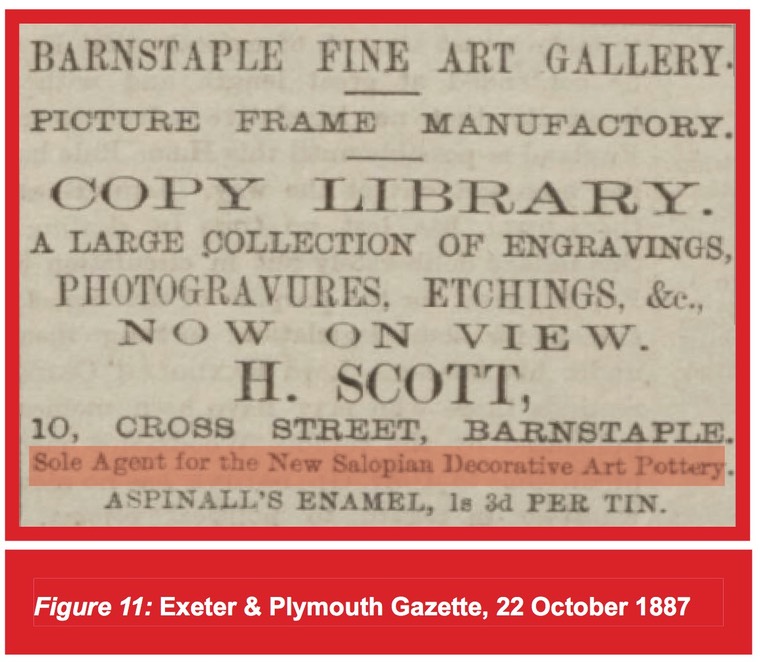 In 1901, the company was still promoting Salopian Art Pottery as suitable for church bazaars (Figure 8)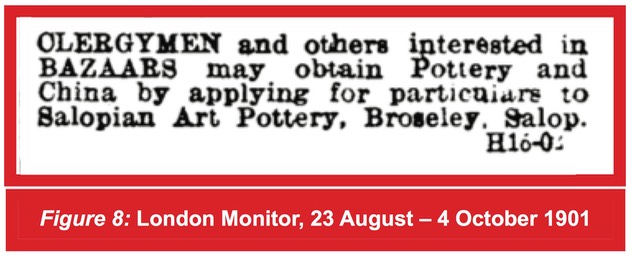 Agents – London and beyond
Having a London agent must have been considered good for business, and in the early years of producing Salopian Art Pottery, the Benthall Pottery Company appointed three: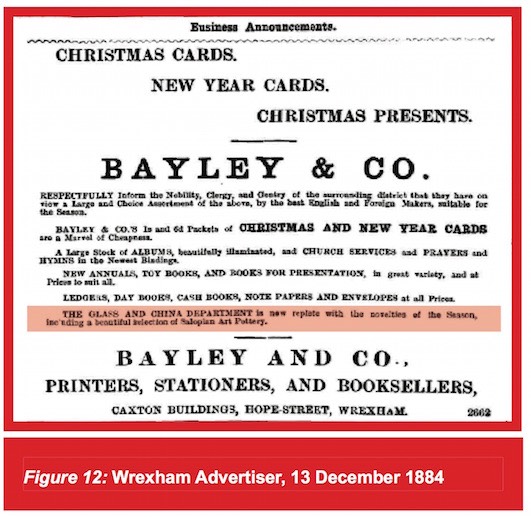 1880–1882 
C.Hindley & Sons, 134 Oxford Street

1882–1883
Frank Marven Southwell, 1 Holles Street, Cavendish Square

1885–18??
J.Sothcott, 47 Tabernacle Street, 

Finsbury
Elsewhere in the country, agents were similarly appointed, such as William Tye & Son, who were sole agents in Northamptonshire, with premises at 21 Gold Street, Northampton (Northampton Mercury, 24 January 1885). In Barnstaple, north Devon, H.Scott was described as "Sole agent for the New Salopian Decorative Art Pottery" (Exeter & Plymouth Gazette, 22 October 1887; Figure 11).
Retailers and auctioneers
Retailers were keen to announce in the local press that they sold Salopian Art Pottery. Small mentions though they were, it helped raise awareness of the "brand" which was good for the Benthall Pottery Company and, no doubt, helped the retailers sell the stock they had purchased. 
While some retailers placed display advertisements, such as Bayley & Co., Wrexham (Figure 12), others, perhaps with more modest means at their disposal, used the newspaper's classified columns. A lucky few had the luxury of free advertising in an editorial piece. Salopian Art Pottery was also noted by auctioneers, who singled it out when they advertised their forthcoming sales. 
Here are examples of all types: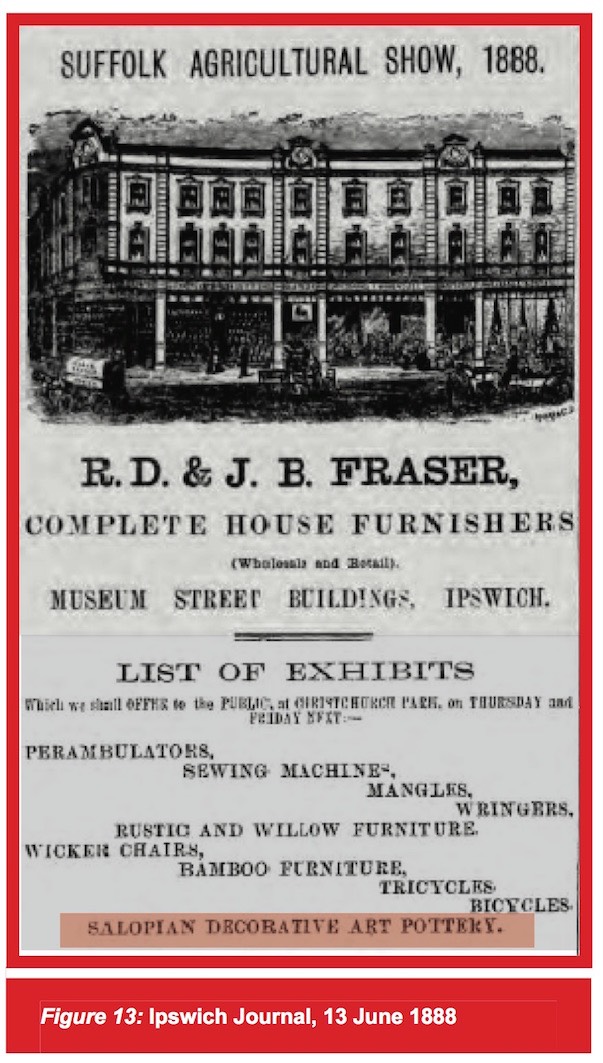 16 March 1882 Sunderland Daily Echo – editorial describing the opening of Mr John Coates' new premises, Fawcett Street, Sunderland, in which was sold "a fine variety of Salopian decorative art pottery".


28 November 1883 Torquay Directory and South Devon Journal – display advertisement from Thomas Oliver, Union Street, Torquay, described as "Depot for the Salopian Art Pottery". This retailer continued placing adverts offering Salopian Art Pottery in 1883, 1885 and 1886. 



17 December 1883, Sunderland Daily Echo




– 

display advertisement from John Coates, Fawcett Street, Sunderland, for Christmas presents and novelties: "The Salopian Ware will be found to be unrivalled by any other pottery yet produced in England for beauty and richness of effect, and at so moderate a cost."


21 December 1883 Wrexham Advertiser

– editorial describing the Christmas display of Bayley & Co., 51 Hope Street, Wrexham, where:
 … amongst the attractions … is the Salopian Barbotine, being the productions of the Salopian Art Pottery Company. These articles, which embrace flower pots, vases and drawing room ornaments – exquisitely enamel painted gold and bronze with beautiful effects, the colouring though rich, being judiciously blended and well subdued – are thoroughly well worthy of a visit of inspection. The designs consist chiefly of fruit and flowers, elaborately treated, whilst some of the articles are perfectly plain in character, the whole, however, forming specimens of the most perfect workmanship.
13 December 1884 Wrexham Advertiser – display advertisement from Bayley & Co., 51 Hope Street, Wrexham, offering a "beautiful selection of Salopian Art Pottery" in the Glass and China Department (Figure 11).


10 August 1887

Belfast Newsletter

– auction on 11 August 1887 of household goods, including Salopian Art Pottery, at the Ulster 

Salerooms of James Morton, 39 Ann Street, Belfast.


20 December 1887 Belfast Newsletter – editorial noting "a fine collection of Salopian Art Pottery" in the windows of Alex Dickson & Sons, Royal Avenue, Belfast.


4 June 1888 Belfast Newsletter – auction on 5 June 1888 of "a select collection of Salopian Art Pottery, in vases, flower pots, etc" at John Cramsie's Auction Mart, 10 Waring Street, Belfast.


13 June 1888 Ipswich Journal – display advertisement from house furnishers R.D. & J.B.Fraser of Ipswich, detailing exhibits taken by them to the Suffolk Agricultural Show. 

Salopian Art Pottery was listed with sewing machines, mangles and bicycles – essential items for the Victorian home (

Figure 13).


5 November 1888 Freeman's Journal, Dublin – a three-line classified advertisement from T. Leech, China Warehouse, 56 Dame Street, Dublin, for Salopian Art Pottery.


31 December 1889 Western Daily Press – display advertisement from W.F.Higgins, China Depot, 103 Stokes Croft, Bristol, for "The Salopian Art Pottery suspending vases, fern pots, flower pots, etc".


19 December 1892 Sheffield Daily Telegraph – auction on 19/20 December 1892 at the Cutlers' Hall by Messrs William Bush & Son of the estate of the late John Bevington, which included Salopian Art Pottery.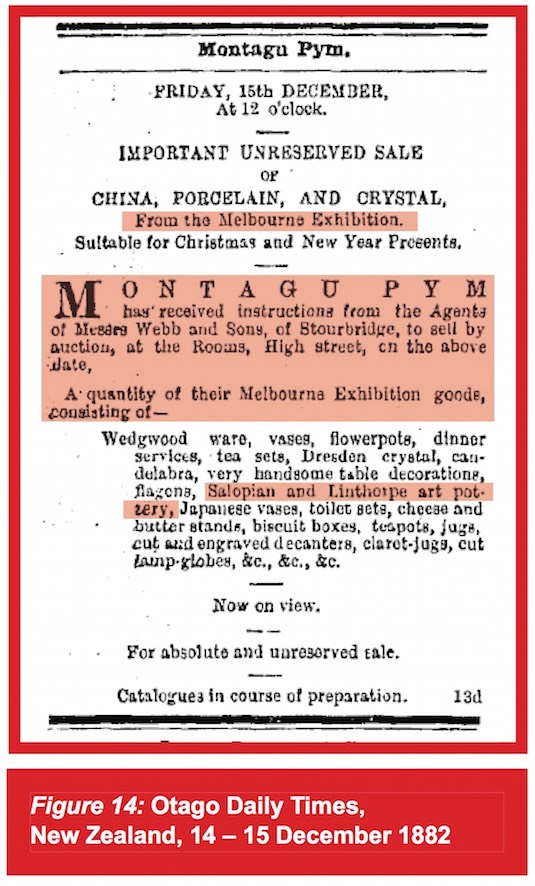 Overseas markets:
Australia and New Zealand
Without doubt, the British (home) market was the major buyer of Salopian Art Pottery. From London showrooms to countless town and country bazaars across England, Scotland, Wales and Ireland, this decorative pottery from Shropshire had found its niche. 
But, what about overseas? Delving into the archives of the world's newspapers produces clear evidence that the Benthall Pottery Company both exhibited and exported Salopian Art Pottery.
In December 1882, New Zealand's Otago Daily Times carried an advertisement for an auction of goods exhibited by Webb & Sons, Stourbridge, England, at the Melbourne Exhibition. Amongst the goods listed is Salopian Art Pottery (Figure 14).
Thomas Webb & Sons were leading English glassmakers, and one wonders how it was that Salopian Art Pottery (together with pottery from other makers) came to be exhibited in Melbourne, Australia, alongside their own products. It must have made quite a display.
The Melbourne International Exhibition was held from 1 October 1880 until 30 April 1881 – the first international exhibition held in the southern hemisphere. 
From 1 August 1888 to 31 January 1889, Melbourne hosted the Centennial International Exhibition,(celebrating 100 years of British settlement), and this time Salopian Art Pottery was displayed on the stand of the Coalbrookdale Company (Figure 15).
Located on the north side of the River Severn, about two miles as-the-crow-flies from the Benthall Pottery Company, the Coalbrookdale Company was a leading English ironworks, renowned for its artistic iron products. 
A lengthy editorial in the Australian Town and Country Journal, 13 October 1888, describes the company's impressive stand at the Melbourne Centennial International Exhibition (Figure 15), and includes the following observation:
The artistic design of the tile hearth and splays is also worthy of attention. These, together with the admirable collection of hand-painted vases and Salopian art-pottery, which serve to greatly add to the appearance of the exhibit, are from the works of Craven Dunnill and Company, of Coalbrookdale.
A line drawing of the Coalbrookdale Company stand accompanied this write-up, and several vases can be glimpsed adorning the company's iron products on display.
Links between the Benthall Pottery Company and the Coalbrookdale Company have long been suspected, but here is verifiable proof that these near-neighbours were in contact and that a business relationship existed between them, if only for this one event on the other side of the world from their Shropshire workshops.
Overseas markets:
North American and the Caribbean

The North American and Caribbean markets were also reached by the enterprising Benthall Pottery Company, with the first recorded display advertisement appearing in the Detroit Free Press (19 & 26 March, 1891). The notice, from Detroit, Michigan, retailers Macdonald, Rich & Company, announced the arrival of Salopian Art Pottery at its store as: "an importation of this most artistic and delicate ware … new shapes, new designs, new colorings" (Figure 16). One wonders how the Benthall Pottery Company achieved such a sale – was an agent involved?  
However, not all publicity in the US press was favourable, as a report in the Warren County Democrat, 24 March 1892, shows (Figure 17). A consignment of "handsome and unique" Salopian Art Pottery, purchased for £20 8d ($96.88) had been received by the Monmouth, Illinois, retailer J.D.Kinney & Co., shipped from Liverpool to Detroit. Unfortunately for Messrs Kinney & Co., the Benthall Pottery Company (referred to as "the dear foreigner") had not paid the required import duty of $59.10, which the retailer was left to settle. This additional cost was passed on to the consumer.
The Benthall Pottery Company had fallen foul of the US Tariff Act of 1890, commonly called the McKinley Tariff, which raised the duty on specified imported goods to an average 50 per cent. As the editorial piece notes, the duty payable on the order for Messrs Kinney & Co. was 62 per cent.
As the 20th century dawned, The Gleaner, published in Kingston, Jamaica, ran a series of display advertisements in 14 of its daily issues, between 7 August and 8 September 1903 (Figure 18).
Placed by the Educational Supply Company, 16 King Street, Kingston, the words "Salopian Art Pottery" stand out at the top of the advertisement.